Gmatic® Single Disc ES420 & ES420 Duo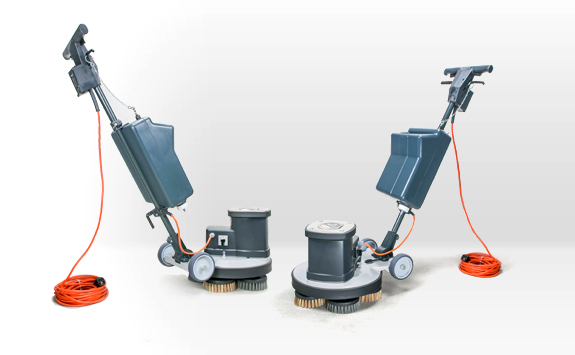 Gmatic® single-disc machines ES420 and ES420 Duo are multi-purpose machines for daily cleaning tasks such as scrubbing, shampooing and polishing. The heavy scrubbers have a DOC drive overload / safety clutch to protect against overload damage. The model variant ES420 Duo allows you to choose between two speed levels (144 or 288 rpm).
Single Disc Machine with Contral™-Brushes
The brush holder of the Gmatic® ES420 and ES420 Duo is prepared for use with Contral ™ master plates. Thus, a single-disc machine can be equipped with 5 sub-brushes. The contrarotating sub-brushes stabilize the single-disc machine and ensure fatigue-free floor finishing. The small sub-brushes rotate at 2.5 times the speed of the master plate and maximize cleaning success. Due to the smaller contact surface compared to a conventional brush, higher pres- sure pressure per sub-brush is achieved and the power consumption of the cleaning system is reduced.
Advantages of Gmatic® Single Disc Machines
for daily cleaning tasks such as scrubbing, shampooing and polishing
two brush speed levels selectable (ES 420 Duo)
brush holder prepared for use with contral master plates and sub brushes (mixed equipment possible)
high degree of mechanical treatment on the floor minimizes water consumption and detergent usage
contra rotating subbrushes stabilize the single disc machine and ensures non exhausting application
2.5 times the speed of subbrushes compared to the master plate and multiple overlap maximize the cleaning success
maximize the specific contact pressure of each sub brush by reducing the contact surface
reduced power consumption compared to the use of a conventional single disc brush
Contral-Master-Plate with
five different sub brushes
Sub brushes with abrasive grain
(46,120, 320) or PES
two brush speed levels selectable
(144 o. 288 U/min)
brush connection made in
stainless steel
contra rotating subbrushes have a stabilizing effect
Technical Specifications of Single Disc Machines
Gmatic®
ES 420
ES 420 Duo
Working width
mm
420
420
Voltage
V
230
230
Drive speed
rpm
173
144/288
Power
W
1.300
1.800
Weight
kg
34.5
43.5
Frequence
Hz
50
50
Noise level
dB
58
58
Comparison as PDF-File for download