Experiencing sustainability in its most extreme form!
The design of the Gmatic® scrubber dryers features electropolished stainless steel and high-quality components, allowing these machines to be reconditioned, even after many years of intensive operational service. A specially developed pickling solution for stainless steel not only allows deep cleaning but also enables the renewed passivation of all stainless steel surfaces. The modular Gmatic platform strategy enables direct access to components and allows each module to be reworked. All damaged welded joints can be renewed, all bent chassis and add-on parts can be straightened, and all other components can be inspected, repaired and serviced. Replacement is necessary only rarely.
The following study documents the reconditioning results of a Gmatic 80 B 82 scrubber dryer (built in 2009) with before and after pictures. This model provided approx. 3,000 hours of service in the retail industry over the last 7 years and was reconditioned for the first time on 1 July 2016.
New charging technology (from 06/2016)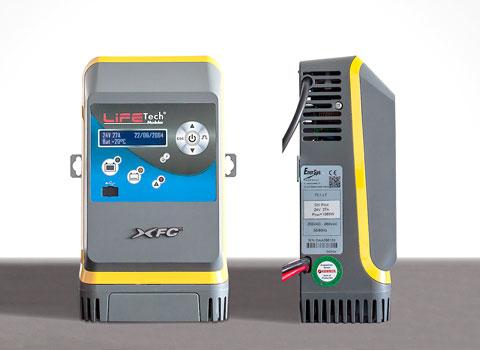 For four years now, we have placed our trust in the battery and charging technology provided by Hawker Enersys. In June 2016, Dr. Gansow Gmatic AG will reach another milestone in the field of charging technology when it launches a brand-new charger. At the end of 2015, Hawker Enersys discontinued production of the orange charger used up until then. In addition to a more robust housing with a handy charger cable holder, the charger is more efficient, shortens charging times and is easier to operate. The new two-line info display shows the temperature of the battery blocks and the charge current currently applied. In the event of any irregularities or defects in the charger or battery blocks, a fault code is displayed that can be used to obtain useful troubleshooting information by means of remote diagnosis.